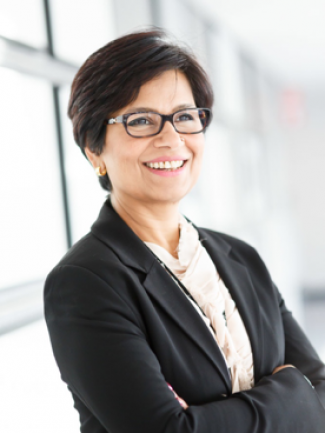 Tanuja Randery
Managing Director, Amazon Web Services, Europe, Middle East and Africa
Tanuja Randery is Managing Director at Amazon Web Services, Europe, Middle East and Africa.
She specialises in commercial transformations in the technology, telecoms and advanced industries sectors.
Tanuja is formerly partner at McKinsey & Company, the management consulting firm.
Tanuja has both a strategy and operations background, having served as CEO in multiple B2B technology & telecom companies, including most recently as CEO, UK & Ireland for Schneider Electric, the global energy management firm.
Tanuja also brings an investment mindset from her time in private equity where she served as an Operating Executive with Apax Partners. She has extensive Board experience and is a Non-Executive Director with two public boards: Proximus Group, the Belgian telecommunications company and Zensar Technology Services, a global IT services firm listed in India.
Tanuja is a champion of diversity and founded PowerWomen network in 2015, a network for senior executive women in London. She was awarded the Top 50 Champion for Women in Business award in 2017 and 2018 by FT/​HERoes.
Prior to Schneider and Apax, Tanuja spent over 10 years in telecommunications at Colt Technology Services, a leading pan-European telecoms provider, and at BT Global Services, as President of Strategy & Transformation.
Prior to joining Colt, Tanuja led the Strategy function at EMC Corporation in Massachusetts, USA and was instrumental in a number of key software acquisitions.
Tanuja started her career at McKinsey & Co. specializing in technology growth strategy. She graduated from Boston University with an MBA and has an undergraduate degree in Economics.
She is an international citizen — born and raised in India, lived in the US for 16 years, Belgium for three years, and now lives in the UK with her husband and son. Tanuja enjoys travel, jazz music, sushi explorations with her son and being chief taster for her husband's culinary exploits.